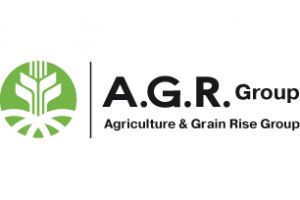 A.G.R. Group
Production and export of grains and oilseeds, dairy cattle breeding, horticulture, storage
A.G.R. Group is a private agricultural holding bringing together 19 Ukrainian farming companies that specialize in corn, soybean, wheat and rye cultivation, with minor livestock production.
Owner of the company — Misak Khidiryan.
The company's land bank totals 33 thou. ha.
TOP 100 Latifundists of Ukraine
Assets are located in Poltava, Kyiv, Chernihiv, Kherson and Sumy regions.
A.G.R. Group business profile
Grain and oilseed crops production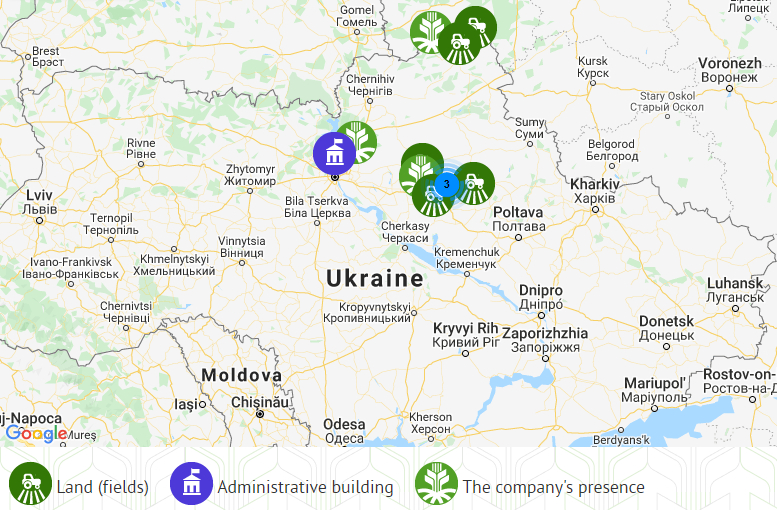 The arable land of the Group is managed by clusters:
1. Brovary Cluster: Brovary district, Kyiv region;
2. Lohvytsia Cluster: Lokhvytsia, Chornukhy, Mirgorod districts of Poltava region, Varva district of Chernihiv region;
3. Hrebinka Cluster: Hrebinka, Orzhytsia, Pyryatyn districts of Poltava region;
4. Chernihiv Cluster: Novgorod-Siversky, Semenivka districts of Chernihiv region, Seredyna-Buda district of Sumy region.
Crop production is the major activity of A.G.R. Group. Production crops are corn, soybean and wheat.
Agricultural commodities produced are sold on the foreign market.
In 2018, AGR made the harvest of grain, beans and fodder crops of 179 645,22 t, specifically:
Corn: 137 434,00 t
Soya: 19 039,26 t
Wheat: 7 407,32 t
Fodder crops: 15 764,64 t
Agricultural machinery
Production units of A.G.R. are equipped with self-propelled and towed machinery:
tractors: John Deere, New Holland, Case
combine harvesters: John Deere and New Holland
headers for harvesters: John Deere, New Holland, Zaffrani and Olimac Drago
chaser bin: PBN-30
telescopic loaders: Manitou, JCB and New Holland
seeding complexes: Kinze, John Deere and Horsch
self-propelled and towed sprayers: Berthoud Raptor, John Deere and Dammann
tillage equipment: Horsch, Kuhn, Kverneland, Farmet Kompaktomat, Gascon
There is also a fleet of MAZ grain trucks (Euro 5) and MAZ trailers.
Storage
Agricultural products are stored at the company's warehouses. The agricultural holding has at its disposal floor storage warehouses (55 thou. t capacity), a modern grain drying complex (7.1 thou. t capacity), as well as grain drying equipment by Sukup with the capacity of 300 t per day, grain drying equipment by Bonfanti with the capacity of 400 t per day.
A.G.R. Group plans to construct elevators in Chernihiv and Poltava (Yahotyn, Lokhvytsia) regions.
Elevator complex in the town of Seredyna-Buda
In 2019, the construction of a new elevator complex was started in the town of Seredyna-Buda of Sumy region. Four permanent storage silos, which are part of the elevator complex, are already constructed.
Designed capacity:
112 thou. t of storage capacity;
with the commissioning of the 1st phase in June 2020 — 28 thou. t of storage capacity.
A modern laboratory is being built on the territory of the complex to define quality indicators in accordance with GOST and ISO.
The company's cement plant is operating full-time. It was constructed to optimize the cost of purchasing and delivering cement.
The elevator complex provides maximum automation of all processes. The cleaning equipment is installed on the site, its capacity is 300 t of grain per hour.
The dryers by Tornum company are designed to handle 3 thou. t of grain per day.
Dairy farming
A.G.R. Group possesses three dairy farms in Poltava region.
The total number of livestock is 1.4 thou. head, including 640 forage cows. Average daily milk yield is 9.5 t, 18.2 litres per milk cow a day.
Products are sold on the internal market.
The company plans to buy heifers of Holstein breed and to develop a new stock-breeding complex in Poltava region.
Fruit growing
At the beginning of 2019, the gardening area was 165 hectares, located in Myrhorod district of Poltava region. The company plans to expand the area by 30%. With regard to the ground specific, Dutch and Canadian cherry, pear and apple seedlings were chosen for cultivation.
The fruit products are designated for export.
Social responsibility
A.G.R. Group maintains programs and projects for the development of local communities.
A.G.R. Group's key areas of social activity:
systemic projects — support and assistance to medical and educational institutions (including specialized schools, boarding schools and orphanages) in the regions of presence
healthcare — support for initiatives and projects in healthcare and disease prevention, including targeted assistance for dangerously ill children and company employees
family and spiritual values — support for initiatives and projects in strengthening and promotion of family and spiritual values​
education — support for initiatives and projects in education: schools, universities, preschool institutions etc.
sport and lifestyle projects — support for initiatives and projects in physical culture and sports, popularization of healthy lifestyle and sports, support of athletes with disabilities, support of rehab programs for athletes
In addition, A.G.R. Group cooperates with local authorities by taking part in various community social programs in the regions of presence.
A.G.R. Group development history
2013 Foundation of A.G.R. Group agricultural holding.
2017 In November the holding company AGR INVEST HOLDING LTD (Cyprus) was established.
Для того, щоб актуалізувати інформацію у розділі досьє або компанії, надішліть поновлені дані на пошту data@latifundistmedia.com
Менеджмент
Команда