FAO revised upward global cereals production forecast through winter wheat 2021 prospects
FAO expects global cereal production to increase for a third consecutive year in 2021. Harvesting of the winter wheat crop has already begun in some countries in the northern hemisphere and current crop conditions point to slightly better prospects compared to earlier expectations, lifting the preliminary 2021 global wheat production forecast to 785 mln t.
"In the European Union (EU), production is forecast to rise sharply to 137 million tonnes in 2021 based on an upturn in wheat acreage and favourable winter crop conditions at the start of spring supporting yield expectations above both the previous year's low level and the five-year average," the FAO report reads.
It is noted that in the UK, wheat crops are in good conditions having benefited from drier and warmer weather in late February and March following an excessively wet winter, and production is forecast to reach 14 mln t.
In Russia, despite improved rainfall that partly alleviated early-season moisture deficits, a cold spell in February is likely to result in higher-than-normal rates of winterkill in the wheat-producing Southern district due to a lack of sufficient snow cover. As a result, and combined with a decline in plantings, production is foreseen to decrease to 79 mln t in 2021.
In Ukraine, prospects are favourable and official data indicate that wheat production would increase to an above-average level of 27.5 mln t.
"In the United States of America (USA), official data indicate a moderately larger area sown to winter wheat compared to initial estimates. This increase is foreseen to more than offset a reduction in spring sowings and, consequently, total wheat plantings are estimated to be 5% higher year-on-year but still the fourth smallest area on record. Based predominantly on the acreage expansion, as less-than-ideal weather has contained yield prospects, wheat production is forecast to increase marginally to about 52 mln t in 2021," analysts assess.
In Asia, wheat production in Pakistan is foreseen to reach at least the official target of 27 mln t, underpinned by an above‑average planted area. The outlook in India is also favourable and wheat production is officially forecast at a record of 109 mln t.
Based on recent field assessments reporting average conditions and good soil moisture levels throughout the country, 2021 production in China is pegged at 135.5 mln t, almost unchanged on a yearly basis. In the Near East, abnormal dryness continues to undermine the production outlook in several countries.
In the northern hemisphere, planting of the 2021 corn crop has recently begun. In the largest global producer, the USA, early estimates from the March Prospective Plantings report indicate that the corn acreage will likely expand by 1% this year, an increase that falls short of market expectations given the strong demand and price prospects.
In the 2021 production season, the gross yield of wheat in Ukraine is expected to reach 27.5 mln t (+10%), barley 8 mln t (+2%) and corn 35.7 mln t (+19%).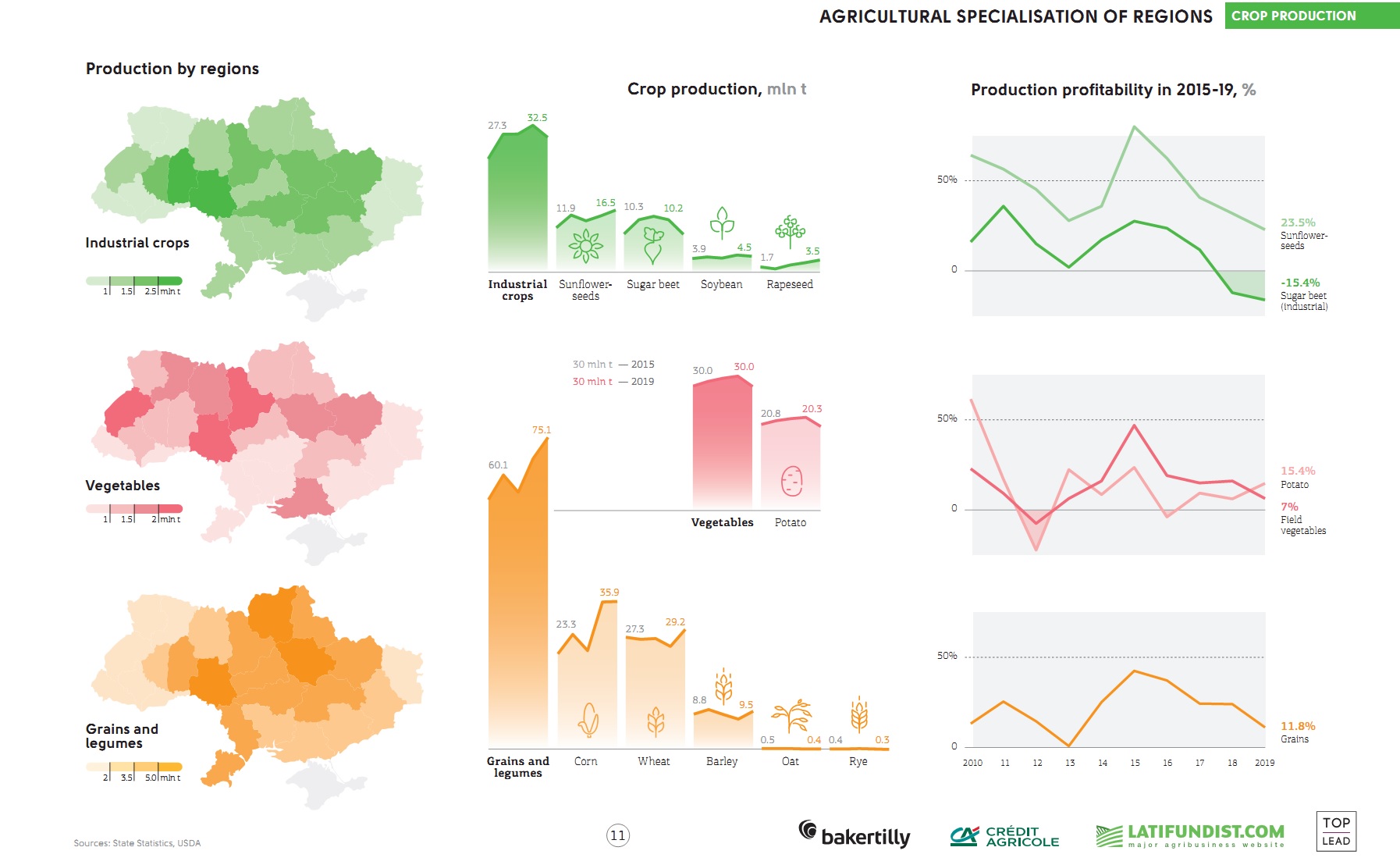 Learn more: